Finishes for Wood Countertops
The type of finish you choose will depend on how you plan to use your kitchen countertop, island top, or butcherblock top. All wood countertop finishes used by DeVos Custom Woodworking have ingredients that are safe for food contact. However, countertops that are used as cutting surfaces are finished differently from those that are not used as a cutting surface.
Click on the photos below for a larger view.
Waterlox®
Recommended as a permanent finish, not to be used as a cutting surface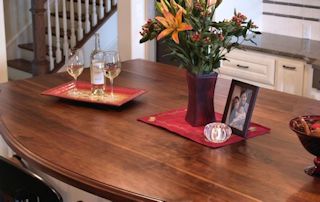 Waterlox® is a tung oil-based permanent finish that will stand up to hard daily use. It is ideal for countertops, island tops, bar tops, and table tops. It's tough, hard, and food safe. Additionally, this finish is waterproof, heat- and stain-resistant. it gives a rich, hand-rubbed appearance while enhancing the grain and penetrating and sealing the wood fibers beneath the surface. The finish will not chip, peel, crack, or wrinkle. Waterlox® finishes are available in satin, semi-gloss, and high-gloss. (Note: Do not chop on wood tops with this finish; use a cutting board instead.)
All tops that are treated with Waterlox® receive a minimum of four coats on the visible side of the top and three coats on sides that are not visible, though six coats are typical for tops with cut-outs for sinks or cooktops and for satin-finish tops.
While extremely tough and durable, the Waterlox® finish can be damaged by bleach, 409-type cleaners, and ammonia products. Depending on wear and usage, this finish will also need to be refreshed over time (typically 5-8 years). This finish can be reapplied by the home owner or you may prefer to have it done by a professional. For detailed information, see our Care and Maintenance instructions.
Waterlox® is an excellent and durable finish. In addition to countertops, it is also used on wood floors. We use it on our own kitchen table and all of our cabinets. See the Waterlox® website for additional information.
Tung Oil/Citrus Finish
Recommended for tops used as cutting surfaces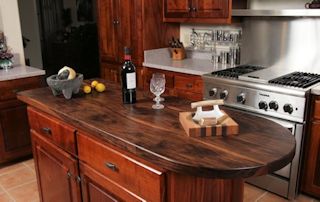 We highly recommend the Tung Oil/Citrus finish over the mineral oil finish for tops that will be used as cutting surfaces. Pure tung oil is FDA approved and non-toxic by nature. Citrus solvent, which is 98% orange peel oil and 2% water, is added to tung oil to hasten the drying process and deepen the penetration of the oil into the wood. The oil penetrating into the wood makes the surface resistant to water, heat and stain damage. Surfaces treated with the Tung Oil/Citrus finish have an overall matte quality while still retaining their natural appearance.
DeVos Custom Woodworking applies four coats of the Tung Oil/Citrus finish to ensure a well-oiled finish. Another advantage of using this finish over mineral oil is that the finish only needs to be renewed about every six months to a year, depending on usage, as opposed to a mineral oil finish that needs monthly attention. Reapplying this finish is as simple as wiping it on, letting it set, and wiping it off again. For detailed information, see our Care and Maintenance instructions.
The Tung Oil/Citrus Finish has become very popular even for tops that are not used as cutting surfaces. It is very natural in both appearance and feel. It is also very protective and easy to maintain! Several of us at DeVos Custom Woodworking have this finish on our kitchen island tops and countertops.
Mineral Oil
Only available by special request
Our food-safe mineral oil finish is used to preserve a wood top that will be used as a cutting surface. The FDA-approved oil we use, unlike vegetable oil, will not become rancid over time. This finish is only available by special request since we have started using the more durable Tung Oil/Citrus finish (see above). Mineral oil never dries, and the oil evaporates; therefore, it is important to remember to oil these tops frequently - at least monthly - to keep the wood from cracking and splitting. this finish gives a dry, natural look to the wood.
See our Care and Maintenance instructions for more information about each of these finishes
Stain Options
Although we love the look and color of natural wood, we do have standard and custom stain options available. Some woods are more conducive to staining than others. African Mahogany and Sipo Mahogany are popular choices for staining. Red Oak, White Oak, and Ash also take a stain very well.