Custom Wood Countertops
When it comes to naturally beautiful countertops, it's hard to beat the warmth and character of wood. The unique grain patterns, tones and colors of wood, coupled with the heirloom-quality craftsmanship of DeVos Custom Woodworking, create beautiful and durable surfaces. Wood countertops and custom wood tables gain patina and depth as they age, and wood blends elegantly with other surfaces and brings warmth to a room.
Unlike stone, which reverberates, wood has sound-dampening properties. A dishwasher or ice machine will be even quieter with wood countertops in the kitchen. Wood is a gentle and forgiving surfaces around dishes and glassware. Wood cutting surfaces do not dull your knives. Finely crafted wood surfaces are what you need for your modern kitchen!
Wood countertops create a focal point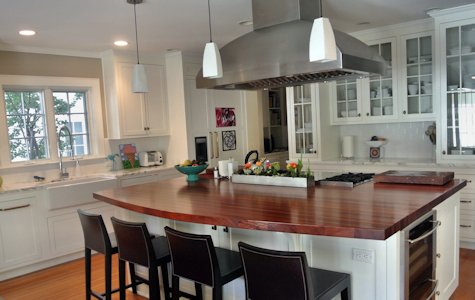 Mixing and matching different woods or construction styles enhances the design of a kitchen. Mixing face-grain, edge-grain, and end-grain surfaces in a kitchen highlights the variation of colors and qualities of the wood. Face-grain construction highlights the natural ovals and swirls of some woods and brings out the uniformity of grain in others. Edge-grain construction provides a striping effect showing mostly vertical (straight) grain lines and brings out the variation of color in a wood. End-grain construction uses square or rectangular shaped blocks which are arranged so the end of the wood (the growth rings) are visible on the surface of the top. This produces a symetrical pattern to the top.
Consider a face-grain island top with edge-grain countertops. Try mixing multiple construction options or multiple woods into the same island... Incorporate an end-grain butcher block section surrounded by edge-grain, face-grain, or even stone to enhance the functionality of the island. Surrounding a face-grain island top with stone or glass countertops will make your island the focal point of your kitchen!
Design aesthetics of wood countertops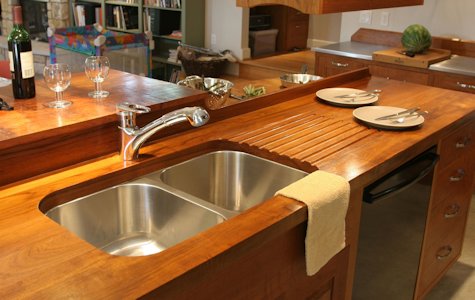 The natural variations that occur in wood allow you to choose a material that suites your specific design aesthetic. The material's natural colorations allow wood to be used without staining it. If you want a dark-wood look, use a dark wood like walnut or wenge. Although we love the look and color of natural wood, DeVos Custom Woodworking is also experienced with a variety of finishes and stains that can change the appearance of a top in dramatic ways.
Small details such as an ogee shaped edge can make a countertop seem more formal where a sharper corner reads modern. Using a more monotone species of wood with a square cut edge can provide a contemporary look to your wood countertop. Using prominent grains or woods with color variations, such as Texas pecan, zebrawood, and walnut include streaks of lighter-colored sapwood that can provide movement and drama in a top. With so many looks - striped, end-grain cubes, solid tops with "live edge" detailing - wood countertops are as comfortable in modern kitchens as they are in traditional ones.
Wood countertops make a fabulous workspace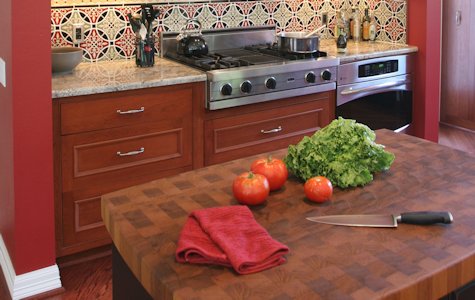 Wood countertops are easy to clean with hot tap water and liquid dishwashing soap, and easy to disinfect with a weak solution of vinegar and water in a spray bottle.
Wood cutting surfaces will not dull your knives. For the ultimate workspace, nothing can beat an end-grain butcher block top. "End-grain" refers to the vertical grain orientation of the wood within the chopping block. It is much denser than edge-grain (horizontal) wood, so it can take lots of knife action. It's also kinder to knife blades, because you are cutting with the grain instead of against it. And end-grain blocks have a unique beauty of their own.
You can safely chop or prepare food directly on wood countertops. According to testing performed by the Wisconsin Food Research Institute in 1993 and by the University of California-Davis Food Safety Laboratory in 1997, wood has antibacterial properties that other countertop materials do not. Disease-causing bacteria, which can form on any cutting surface where food is prepared, disappear very quickly from wood surfaces, thereby making wood cutting surfaces the safest choice for cutting and preparation needs in the kitchen.
The key to a sanitary kitchen is cleaning and moisturizing the wood countertop. When wood is properly treated and maintained, it does not absorb odors or stains the way it would if it were dry. It is important to oil your top after it has been installed in your house for two weeks, and then oil it again as needed, depending on usage. As your top matures, you will notice that it does not need oiling as often. Please see the "Care and Maintenance" instructions for further details.
Wood countertops are green and gentle...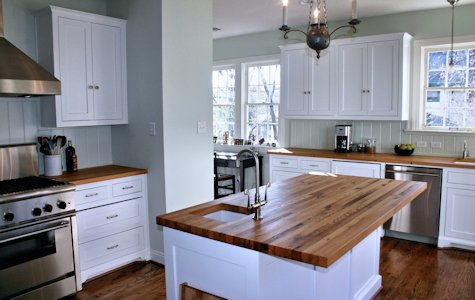 Wood is a natural product of our environment. The supply of wood is renewable by sustainable forestry practices used in this country, and we look for wood from reliable sources using sustainable forestry practices when we purchase from other countries. Another "green" characteristic of wood countertops and tables is that they require a minimum of chemical components and engergy to produce.
Our policy is to leave as soft a footprint as possible on our environment. We are often able to purchase mesquite, pecan, and lovely, vibrant Texas walnut locally. Some of the trees we use even come from clearing projects or have been downed by natural forces such as storms. Additionally, we offer reclaimed wood, which is a desirable product for countertops and tables and promotes conservation of our natural resources. We are happy to work with you in fulfilling any special "green" requests.