Make your kitchen a showplace with Custom Wood Countertops!
Experience the elegance, sophistication, and warmth of real wood countertops.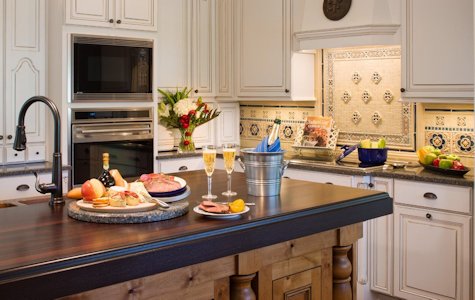 Natural wood countertops and their wide array of choice is sure to enhance your decor whether it be English traditional or Scandinavian contemporary. Country French or American farmhouse. Couple this with the wide number of custom edges we have available, and your kitchen wood countertops are sure to be as unique as you!
Our products are not mass produced. Each piece is individually hand crafted. We enjoy working with customers to design wood countertops that are unique and functional. We are committed to the highest quality of craftsmanship and take pride in each piece we make.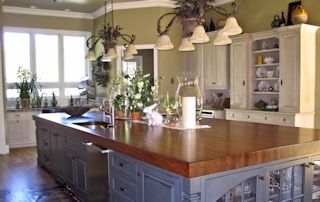 Make it unique!
We specialize in Texas woods such as Mesquite, Texas Walnut, and Texas Pecan. We also work with several other wood types and often have specialty woods like Spalted Maple, Spalted Pecan, and wood slabs available. Call us with your special requests.
Make it custom!
We specialize in custom designs. Whether you know exactly what you want or simply have an idea of a direction you want to go, our experienced design staff will work with you and turn your project into reality.